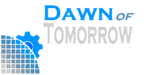 Welcome to the Dawn of Tomorrow Wiki!
The official encyclopedia for the
Dawn of Tomorrow
group universe.
We've had 86 articles and 307 images uploaded since February 26th, 2015.
Welcome Center
Welcome to the Dawn of Tomorrow Wiki, where the DoT community tries to comprehensively record all aspects of the Dawn of Tomorrow Group. The Dawn of Tomorrow is a new group of minibuilders and roleplayers who work together on the Dawn of Tomorrow Project, a collaborative wall-based roleplay project set in a future where the world is divided not by nations but by massive unions.
Getting Started
We're still pretty young, so this is still a great time to get involved! Get in touch with the group owner, Djzman, or just ask on the wall if you need any help!
Notices
We've formed the wiki! Please feel free to help us fill it in as the Dawn of Tomorrow Project takes shape!
---
Hey!
Is your Nations page filled in?
Does it give any information on your administrative divisions?
Your Armed forces?
Your foreign relations?
Do you have a flag and coat of arms?
Have you made a page for your character or characters?
Have you given a summary of who they are?
Their role in the world?
What's their job?
Their age?
Their ideology?
Their history?
Has a major event happened recently?
Does it have a page?
Is all possible information recorded there?
Does it rely on canon roleplay?
Does it include dates for the span of the event?
There's still lots that we could use some help with around here, only through preservation of canon and further world building can we ensure the project's further success!
Jobs Board
This is a section to list some odd jobs that we need help with around the wiki.
Flags and coats for all nations
Resources pages
Game mechanics pages
Pages for all continents and names
Pages for major conflicts
Pages for all major characters and any mentioned in roleplay
Pages for all major cities
(And more...)
Forum Activity
<wikiaforum />